This is my favorite Klimt painting. I am undone and inspired by it, for all the reasons you will read below(if you have the patience) and because it's about my second love. Music.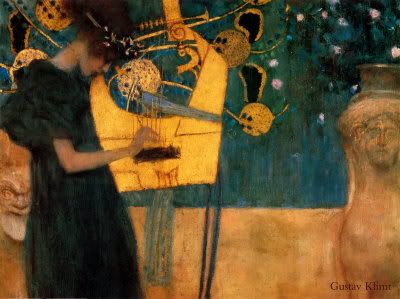 Klimt might be my favorite painter. I use the word "might," because I'm not sure if I can have a favorite. Everything he's ever done has something to do with relationships. At least in my mind it does. So, perhaps it's that common ground I've declared that ties me to this warm, ornate, meandering and glorious world that he's created. It reminds me of all the things of which relationships are made, and this inspires me.
His overly erotic self has always managed to simultaneously inspire and inhibit. Every time I look at a painting or drawing created by this man I am completely overtaken and defeated. Overtaken with the need to create something, and defeated before I get started. I feel like I'm aspiring to be something I'm not.
When my happy little self attempts to create a painting with such oddly balanced composition, vibrant/earthy color, and a rich epic storyline, it ends up being way too busy. I can't find my happy medium. I then forfeit. I'm obviously trying too hard, which means it's not honest. It's false because I'm "trying" at all! So, I'm
lying
now?! Art. Artifice.
I just want to paint
!!!
Art school really just screwed me up. I'm sure of it. It's all this "education" that keeps me from just painting. Instead I have to drill myself on anything and everything anyone might see in what I'm creating, and become a neurotic mess that can't finish a painting.
I could've happily painted my way through life
without
knowing the attempts, failures and harsh criticisms of every artist worth mentioning since the dawn of man! Who deemed who worthy of deciding whose "worth mentioning" or not?
Yes, I have a bachelors degree in art and art history and I know a whole lot of crap not a lot of people care to discuss, and I'm bitter.